FEEL SECURE, ALL THE TIME.
Connexa Energy manufactures and distributes a wide range of tough and rugged solar battery enclosures and electrical enclosures. Our line of enclosures offer both superior protection and ease of use, no matter where you put it. Our battery enclosures are durable and reliable, even in hazardous conditions. With options in aluminum, powder coated steel, and polycarbonate, we've got your next project covered. Our sales team and our technical design team can source or create just about any type of enclosure. Contact us today to discuss your specific enclosure needs.
COMPLETE AND CUSTOMIZABLE ENCLOSURE LINE.
We stock a large variety of sizes and materials in our enclosure line, with options like venting, vandal-resistant hardware, locks, and different door/lid choices. In addition to the variety of enclosures we keep in stock, we also offer custom enclosures, with a dedicated fabrication department utilizing our state-of-the-art CNC plasma table.
NEMA 1 - NEMA 12 Specifications
IP Certified Enclosures
Freestanding, Pole Mount, & Tower Mount Options
Battery Shelves & Backplates
Aluminum, Powder Coated Steel, Polycarbonate, & Fiberglass Options
ENCLOSURE OPTIONS
CLICK ON EACH IMAGE FOR A SPEC SHEET
Powder coated steel enclosures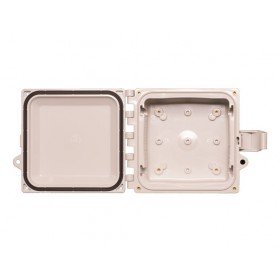 Connexa carries the full line of Attabox polycarbonate enclosures, with sizes from 6x6x4 through 24x24x10.